Event Description
WedDate: 1/8/2020 - 2/26/2020From: 7:30 pm - 8:45 pm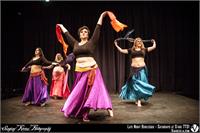 Oriental Dance, or Raqs Sharki, is one of the oldest and most powerful forms of dance from a rich cultural background. The natural movements of bellydance can be enjoyed by all people, regardless of age or size. Previous dance experience is NOT necessary. Come dance with Phaedra and feel great about your body while you enjoy learning the culture and customs associated with this form of movement!
This 1.25 hour class will challenge the body and the mind, combining strengthening of the core and controlled isolations with dance technique to lively Arabic music. Suggested clothing: please wear something comfortable that you can bend and stretch in. You do not need to show your belly, but form fitting clothing is always a plus for a dance class in order to observe technique. Dance Shoes which let the foot turn or bare feet will be best - no street sneakers. Please note that this class will be all dance technique and body conditioning. Performance repertoire for the showcases will be taught in the "Bellydance Rep" class immediately following. We are looking forward to dancing with you!
All levels and genders welcome.
Every body welcome.
Prerequisites: None
Class Limit: 14
Dance Styles
Traditional/Indigenous Dance